White House Officials Say They Are Winning Gun Control Debate, Will Again Push For New Laws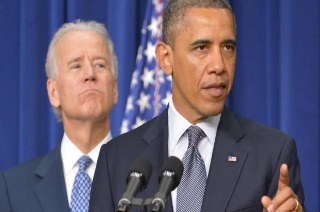 On Tuesday, Vice President Joe Biden will present a progress report relating to new gun laws established in the wake of the massacre of children and teachers in Connecticut in December, 2012. While the White House has enacted some executive orders relating to gun ownership, Congress failed to pass even modest changes to the nation's gun laws in the wake of the Newtown massacre. The White House is preparing to restart the effort to pass new gun control measures and anonymous Obama administration officials are telling reporters that they believe they are slowly winning the debate over new gun laws.

RELATED: Poll: 62% Want Senate To 'Move On' From Gun Control Push
One anonymous White House official told BuzzFeed on Monday that, even though the outcome of an April vote on new gun laws did not go their way, the administration believes the backlash directed at opponents of gun control is encouraging for the Obama administration.
"What was on display in April, despite the fact that the outcome was not what we had supported, there was an indication both in that vote and the immediate aftermath of that vote, that the dynamics of that political conversation are changing," a senior Obama administration official said Monday. "And they're doing so rather rapidly. The backlash that we saw, politically speaking, at the grassroots level [after the April vote] was not against Democrats who supported a common sense compromise measure to strengthen background checks. Instead, we saw a pretty intense backlash against some Democrats and some Republicans who voted against expanding those background checks."
BuzzFeed spoke to a Republican Party spokesperson who also said he welcomes the White House push for new gun laws. He said that the politics of the gun debate help the president reconnect to his Democratic base, but the push also imperils vulnerable Democratic Senators in red states like Sens. Mark Begich (D-AK) and Mark Pryor (D-AR).
Read thefull report via BuzzFeed
> >Follow Noah Rothman (@NoahCRothman) on Twitter
Have a tip we should know? tips@mediaite.com