Letterman to Cornel West: Am I 'Ignorant' to Think Race Relations Are Getting Better?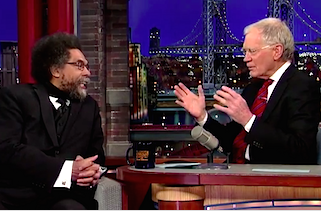 Dr. Cornel West stopped by CBS' Late Show Monday night and while he was there host David Letterman had a very important issue he wanted to talk about: "I assumed, I think like many people of my generation, that we were on the right path to race relations in this country getting stronger, more positive, more equal, if you can say that," he said. "I think, probably, I've been ignorant about that."
West disputed Letterman's description of himself as "ignorant" but said it is a "problem" to think that having a black president would solve America's racial issues. "On the one hand, it's a magnificent achievement at the symbolic level in terms of both having access to the most powerful office in the world and second the impact that it has on our precious young people of all colors," he said. "But there's a difference between substance and symbol," he added.
Despite the fact that we have a black president and attorney general, West lamented that fact that not one police officer has been federally prosecuted for killing young black men. He accused Obama of being too scared of the political consequences to fully speak out on issues that matter, saying he's worried about what Fox News or the right might say in any given situation.
"Regardless of your popularity, where's your integrity?" he asked.
West has long been a harsh critic of President Barack Obama, calling him a "war criminal" for his use of drones abroad and "paternalistic" towards young black men at home.
Watch video below, via CBS:
[Photo via screengrab]
— —
>> Follow Matt Wilstein (@TheMattWilstein) on Twitter
Have a tip we should know? tips@mediaite.com