Local NBC Affiliate's 'Stunt' Causes High School Lockdown, Panics Parents and Kids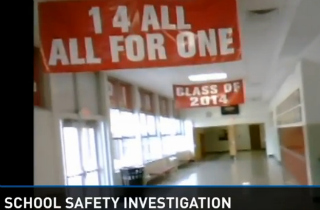 NBC's affiliate news station in St. Louis, Mo., drew local outrage after going undercover to test a high school's security system, triggering a lockdown and panic among parents and students.
On Thursday afternoon, a man reportedly entered Kirkwood High School unimpeded, asked to speak with security, and then disappeared. An hour later, the school went into lockdown, keeping students and teachers huddled in their classrooms for 40 minutes with the lights off.
Turns out, that visitor was a KSDK photographer who had attempted to enter four other schools as part of a segment exposing security lapses at local schools.
As soon as word spread that the school had gone on lockdown, a social media uproar began, prompting the news channel to release statement declaring: "This lockdown certainly was not the intent of our visit." KSDK noted, however, that the lockdown didn't happen for an hour until after the reporter left; and that the reporter left a phone number and identified himself by name (not affiliation) to the office.
"NewsChannel 5 will continue to be vigilant when it comes to the safety of our schools and your children within," the station added.
The school district's spokeswoman Ginger Cayce conceded that the reporter incident helped identify security weaknesses within the system, but she lamented how poorly she believes KSDK handled the ordeal: "We learned some things from this, but we are still dismayed that a call was not given after to let us know this was a test," she said. "We could have prevented the alarm to our parents, students and staff."
According to reports, the school went into lockdown after a secretary tried calling the reporter's number multiple times but could not confirm his affiliation with KSDK, as his voicemail indicated.
In addition to angry parents, the local channel has received criticism from FTVLive — who called it a "stunt" for ratings — and a questioning of principles from the St. Louis Post-Dispatch, which cited the Poynter Institute's 2006 ethics question for reporters: "Do we run the risk that our 'reporting tactics' will become the story rather than the public safety issue we are exploring?"
KSDK aired the report during the 10 p.m. newscast. Watch below:
[h/t St. Louis Post-Dispatch via FTVLive]
— —
>> Follow Andrew Kirell (@AndrewKirell) on Twitter
Have a tip we should know? tips@mediaite.com