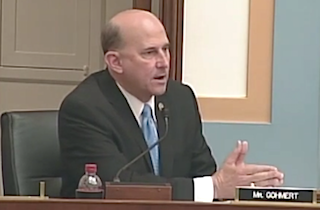 Glenn Beck has long suspected that conspiracies could be at work in keeping his online network TheBlaze off of traditional cable television, and now he has an ally in Rep. Louie Gohmert (R-TX). During a congressional hearing on the Comcast-Time Warner Cable merger Thursday, Gohmert suggested that Comcast was intentionally keeping TheBlaze off the air for ideological reasons.
Gohmert questioned Comcast's David Cohen not about the implications of the potentially massive merger, but rather about Beck's attempts to enter the cable TV landscape.
The congressman recounted how Beck had attempted to buy Current TV from former Vice President Al Gore. "It was reported that Al Jazeera wanted to get their Sharia law push into the United States, and they were willing to pay big bucks," Gohmert said. "But they wouldn't do the deal unless Comcast was willing to keep them in its list of networks provided. So it was reported Comcast agreed, so Al Gore got all that oil and carbon based money. And then, that kept Glenn Beck off the air… of Comcast."
Next, Gohmert brought up an email from someone at a network the company partially owns that wanted to sell to Beck for $20 million but was allegedly prevented from doing so by Comcast.
"The feeling by some within Comcast was so strong about keeping Glenn Beck off the air," Gohmert said, "that some reportedly were willing to forgo $20 million that TheBlaze offered to pay off this network's debt owed to Comcast just to keep them off the air."
The email allegedly went on to say Comcast was trying to prevent Beck's network from going on the air until after the 2014 midterm elections. "Why would Comcast want people to cling to God and their guns?" Gohmert asked Cohen, sarcastically.
Cohen insisted that Comcast has no ability to control the sale of the network who allegedly wrote the email, which he identified as RL-TV, but the company does reserve the right to prevent the purchaser, which would be TheBlaze in this case, from staying on Comcast's list of channels.
"I will represent to you that there is no judgement being made about carriage of TheBlaze based upon political perspective," Cohen assured Gohmert, "and certainly, absolutely no judgement about whether that network should be on our cable systems before or after the elections."
"You're a smart man and apparently a smart attorney. You understand the consequences of not speaking truthfully before Congress?" Gohmert asked the executive.
"I do," Cohen replied.
Watch video below, via C-SPAN:
[Photo via screengrab]
— —
>> Follow Matt Wilstein (@TheMattWilstein) on Twitter
Have a tip we should know? tips@mediaite.com