Maddow Chronicles Reince Priebus' Failed Tenure: 'What Does It Take To Get Fired At The RNC?'
Rachel Maddow: 'What Does It Take To Get Fired At The RNC?'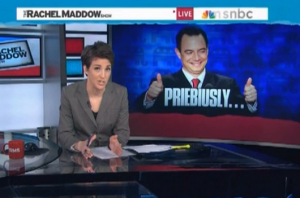 Rachel Maddow took a look at the Republican party's strategy on Monday night, particularly in terms of leadership. Chronicling the the successes of the last Republican National Committee's chairman, and comparing them with the failures of the current chairman, she posed a question: Why is he getting re-elected?
Under former RNC Chair Michael Steele, Maddow noted, Republicans fare quite well: They won back the House, chipped away at the Democrats' majority in the Senate, and won most of the governorships back in the country. They did "really, really well," she said. "Republicans however, decided that national chairman was a failure and they fired him."
Enter current chairman, Reince Priebus, whose personal goal was to defeat the president's re-election bid, take back the Senate and retain the House majority. Maddow noted that Priebus said his leadership would have "more focus on winning" — specifically through the party's unprecedented ground game.
Maddow then detailed how, indeed, Priebus never accomplished two of those goals and that the party's ground game in battleground states clearly did not work, as those states went for Obama. They lost seats in both the House and the Senate. "At the level of political, technical proficiency, the correct political science term for understanding what happened on the Republican side of things in this election," she said, "is that the Republican party's ground game this year sucked."
Now, Priebus' term is up, "and not only does he intend to run for the job again, he's apparently going to win."
"According to him, he's got a majority of members supporting him," Maddow said. "Really? What does it take to get fired at the RNC? Other than winning elections, of course. That obviously is grounds for dismissal."
Watch below, via MSNBC:

Have a tip we should know? tips@mediaite.com