Maher & Lawrence O'Donnell Get In Shoutfest With GOP Guests: 2nd Amendment Will Not Protect You From Tyranny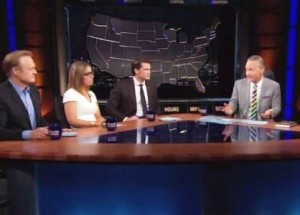 Bill Maher tonight continued fighting back against pro-gun Republicans who are paranoid about their liberties being infringed so much that they may need to start an armed insurrection. He and Lawrence O'Donnell got in a huge shouting match with the conservative panelists, with Maher calling out the whole premise of the "tyranny" argument by declaring that the second amendment is not going to protect anyone's personal liberties.
Maher brought up the fact that the government had the clear weapons and ammo advantage at Waco, arguing that the government is too well-equipped for anyone to seriously oppose it. Pete Hegseth argued that liberty still needs to be preserved at the point of a gun, but O'Donnell shot back that the U.S. passed that point years ago. That led to a big shouting match in which Hegseth brought up how Syrian may still need guns to fight against tyrannical government and O'Donnell insisted that's not the case with the U.S.
Comedian Marc Maron observed that maybe the reason the Republicans want a small government is so "the fringe of their ideology can take it over." O'Donnell confronted Hegseth, a U.S. veteran, over how he feels about radical conservatives saying they're going to have to target members of the military in order to fight against tyranny. Hegseth dismissed the nuts on the right, but when he said that there may be a scenario "100 years down the line" where this would become necessary, O'Donnell got exasperated and started yelling again.
Maher showed the introduction video for Rick Perry's NRA speech, and argued that America has a problem with romanticizing guns. O'Donnell claimed that "gun ownership is a minority activity," and brought up how there are now guns being marketed to childrens. Maron quipped that it appeals to kids fed up with the tyranny of their parents.
Watch the video below, courtesy of HBO:
—–
Follow Josh Feldman on Twitter: @feldmaniac
Have a tip we should know? tips@mediaite.com
Josh Feldman - Senior Editor