Bill Maher: Obama Doesn't Look Like The Adult In The Room, He Looks Like The Substitute Teacher
Maher: Obama Doesn't Look Like The Adult In The Room, Looks Like The Substitute Teacher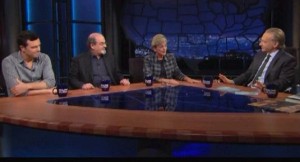 On his show tonight, Bill Maher and panel gave Obama some praise for the killing of al-Qaeda's Anwar al-Awlaki earlier today, but then the discussion turned to the president's failures domestically on the economic front and how he has, as Maher argued, capitulated to Republicans at points he did not need to. The entire discussion focused around Obama's leadership in dealing with Republicans and his lack of advocating for more liberal policies.
Former Michigan Governor Jennifer Granholm saw an irony in Republicans, who believe in a laissez-faire government, criticizing Obama for not doing enough, and pointed out that anti-government Rick Perry was very much involved in shaping and mending the state economy in Texas. Salman Rushdie was shocked, SHOCKED to find that politicians were behaving in a duplicitous manner.
But on a more serious point, Maher asked the panel if anyone agreed with Ron Paul's position that because he was a U.S. citizen, Awlaki should not have been "assassinated." No one on the panel seemed to be in agreement with this point, and Rushdie argued that when you commit treason against your country, you basically give up your rights.
The discussion then turned to the economy, and despite listing a wide variety of President Obama's accomplishments in office, Maher argued that he "sold our" on the environment and on the poor. Seth MacFarlane wondered why Republicans continue to brand Obama as the most liberal president in recent times when some of the policies he's enacted have been somewhat conservative in nature. Granholm defended the president, saying "he did what he had to do." Maher questioned if that was even the case, considering the groundswell of public support behind policies that President Obama has not pursued in the past three years.
All the fights he's had with Republicans over budgets and money, he's caved unnecessarily. I mean, he should have come in like a house on fire… his first one hundred days could have more resembled FDR's first one hundred days. He didn't have to cave in on the Bush tax cuts, that's ridiculous. He didn't have to cave in on the debt ceiling fight.
Granholm countered that Obama may not have had the votes to push more liberal policies through the Congress. Maher compared President Obama to a substitute teacher "who's just not trying to have a nervous breakdown" instead of establishing himself as the only adult in the room. MacFarlane argued that since the United States has already tried conservatism and centrism, maybe it's time for the president to try and experiment with liberalism.
Watch the video below, via HBO:
Have a tip we should know? tips@mediaite.com
Josh Feldman - Senior Editor