Maher Tears Apart 'Con Men' Beck, Limbaugh And Hannity, For 'Separating Rubes From Their Money'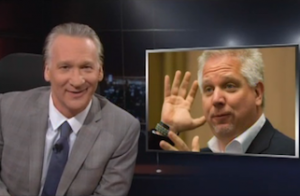 Bill Maher used his final New Rule of the night to take on his old friend Sarah Palin's departure from Fox News.
"Liberals have to stop gloating about Sarah Palin getting dumped by Fox News," Maher began, "even though it happened less than a day after Bobby Jindal told his fellow Republicans to 'stop being the stupid party.' That's just a coincidence. A wonderful, hilarious coincidence."
The whole thing reminded Maher of another character who got fired from Fox News: Glenn Beck. "But did he curl up into a ball and weep like a baby? Of course he did. This is Glenn Beck we're talking about."
After that, Beck headed off to the internet, where he made $80 million on his subscription-based website last year, landing him on the Forbes list of highest-paid celebrities. Rush Limbaugh is also on that list. And Maher said "con men" like Beck and Limbaugh "don't care about winning elections. They care about separating rubes from their money… They don't want a majority. They want a mailing list."
Maher proceeded to tear into Beck, Sean Hannity and other conservative radio hosts and authors for stoking survivalist fear in their audiences and profiting immensely from their gullibility.
"Glenn Beck only has 300,000 subscribers, so they'll never be a majority." And even though they can only vote once every few years, they can consume right-wing ideology and products almost as fast as they are produced.
"There's no comparable industry on the left, dedicated to separating liberals from their cash. I mean, unless you count Whole Foods."
Watch video below, via HBO:
—
>> Follow Matt Wilstein (@TheMattWilstein) on Twitter
Have a tip we should know? tips@mediaite.com