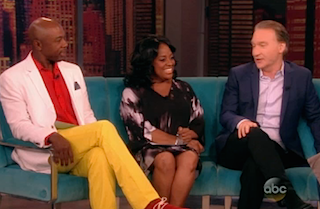 When Bill Maher graced The View with his presence Monday morning, he didn't only accuse the tea party of having racist motivations, he also made a particularly outrageous suggestion about Karl Rove. The joke Maher told may have played a little bit better on his late night HBO show than it did on daytime TV.
Near the top of the segment, a question from Sherri Shepherd prompted Maher to bring up Rove's suggestion that Hillary Clinton had "brain damage," a strategy he said the Clintons are accustomed to by now.
"This is what they do. She's used to it, I mean look what Karl Rove did to her a couple weeks ago, bringing up brain damage and just saying, 'well, I'm not saying she does, I'm just putting it out there.' I wonder if Karl Rove's gay lover that he murdered," Maher said as the audience groaned in disapproval. "Oh, I'm not saying that's definitely true, I'm just putting it out there."
While the second part of his joke did garner some applause, things didn't get much better from there. When guest host Greg Anthony asked Maher if he voted for Clinton in the 2008 primary, the comedian replied, "No, I voted for the boy who won."
"Oh, I didn't mean it that way," he said quickly.
"Wait a minute, what, what?" Shepherd said, before letting the remark slide.
Watch video below, via ABC:
[Photo via screengrab]
— —
>> Follow Matt Wilstein (@TheMattWilstein) on Twitter
Have a tip we should know? tips@mediaite.com