Malkin Goes Off On GOP For 'Receding From Post-9/11 Mentality' That Illegal Immigration Is Nat'l Security Threat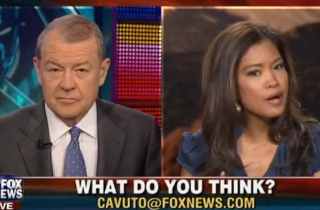 Appearing on Fox News this afternoon, conservative columnist Michelle Malkin went off on the Republican "Gang of Eight" and "open borders" Democrats for abandoning what she believes was a bipartisan post-9/11 belief that illegal immigration represented a "national security threat."
Malkin lamented the "stampede" among Senate Republicans to pass their immigration reform bill, calling them "capitulationists" who foolishly believe immigration reform will be the "salvation" of the GOP with minority voters.
"The stampede is this post-election pandering by the Republican establishment," she told fill-in host Stuart Varney before mocking the reform plan as "Shamnesty."
"Article Four of the U.S. Constitution, which you rarely hear about in these bipartisan discussions now, mandates the federal government ensure and guarantee that the state are protected against, quote, 'Invasion,'" she said before asserting that her long-time reporting leads her to believe that not only are our physical borders being penetrated by "invaders," but also "our air ports of entry, our sea ports of entry, not to mention the consular offices overseas which are meant to be the front line for guarding against these invaders."
When Malkin suggested the federal government should take steps to deport the half-million people who've evaded their deportation, Varney pressed, "Do you think America has the stomach to round up a half million people and throw them out?"
"If we're talking about the deportation evaders who have multiple criminal records, why not? Of course we should," she replied.
When Varney suggested her position is a "hard line" on immigration that goes against the Republican narrative of needing reform in order to reach out to minority voters, Malkin shot back, "What is hard line about enforcing the law against people who defy deportation orders?"
"It is not a hard line because there used to be bipartisan agreement this was a national security threat and that's why we have receded so far from the post 9/11 mentality that all Americans were supposed to be agree is something that should be remembered and never is forgotten as part of the 9/11 legacy," she concluded.
Watch below, via Fox:
— —
>> Follow Andrew Kirell (@AndrewKirell) on Twitter
Have a tip we should know? tips@mediaite.com