Conservative Radio Host: Bill O'Reilly's Mockery Of Gay Marriage Opponents A 'Hanging Offense'
Conservative Host: O'Reilly's Mockery Of Gay Marriage Opponents A 'Hanging Offense'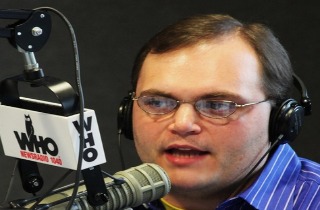 Conservative radio host and frequent guest on both Fox News Channel and MSNBC, Steve Deace, fired off a warning to Republicans warming to the idea of ending the GOP's opposition to same-sex marriage rights. During his daily radio broadcast on Monday, the influential Iowa-based talker called comments like those made by Fox News host Bill O'Reilly, who called opponents of gay marriage "Bible thumpers," a "hanging offense" and "using the enemy's own language" against fellow conservatives.

RELATED: O'Reilly And Megyn Kelly Agree: Gays Have 'More Compelling' Argument, Opponents Just 'Thump The Bible'
On March 27, O'Reilly slammed opponents of gay marriage saying that they lack a compelling argument to support their continued opposition to same-sex marriage rights:
The compelling argument is on the side of homosexuals. That's where the compelling argument is: 'We are Americans. We just want to be treated like everybody else.' That's a compelling argument. And to deny that you've got to have a very strong argument on the other side.
These comments earned O'Reilly the rebuke of conservative radio hosts like Mark Levin and Rush Limbaugh.
"Do you think there are any Bible thumpers, quote-unquote, that watch Fox?" Limbaugh asked.
"Why are you putting down your audience?" Levin wondered. "I thought you stood for the 'folks'. You sound like Obama with your 'Clinging to your guns and Bible' line."
On Monday, Deace joined the chorus of anti-O'Reilly conservative talkers. The conservative talk radio host amped up the rhetoric, however, when he suggested that O'Reilly's attack on gay marriage opponents was an offense punishable by frontier justice.
"I've got a bee in my bonnet big time and it's Bill O'Reilly at Fox News," Deace said on Monday. "I don't like charlatans, I don't like frauds; give me Rachel Maddow. At least she's honest."
But when you are trying to profit off of the very people you are betraying and you have tried to condescend them and patronize them for years and then at the moment they probably need you to return the favor of all the money they made you over the last fifteen years the most, you stab them in the back, throw them under the bus and use the enemy's own language against them. To me that's a hanging offense; that is a hanging offense.
Listen to the audio below via The Steve Deace Show:

> >Follow Noah Rothman (@NoahCRothman) on Twitter
Have a tip we should know? tips@mediaite.com