Martin Bashir Accuses Ted Nugent Of Suffering From 'Fetish,' 'Obsession With Fecal Matter'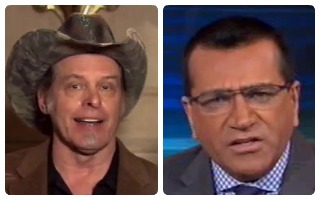 On Wednesday, MSNBC host Martin Bashir dissected a interview that NBC News reporter Luke Russert managed to secure last night with rocker and Second Amendment rights advocate Ted Nugent. In that interview, the outspoken critic of President Barack Obama frequently referenced excrement to express his dissatisfaction with the situation. Bashir opined that the interview indicates that Nugent may be suffering from from some form of scatological fetish.

As our own Tommy Christopher reported earlier today, Russert interviewed Nugent in the Capitol Building on Tuesday night immediately after the State of the Union.
Russert asked Nugent to explain a comment he made about Rep. Jim Langevin (D-RI) when the rocker referred to the congressman as having "shit for brains." Nugent, not backing down from the incendiary comment, explained to Russert that he was using a colloquialism. Nugent added that, in order to truly achieve the figurative condition he described Rep. Langevin as having, it would require "genuine fecal material instead of brain matter."
After asking if he was on "the Punk'd TV show" during his interview with Russert, Nugent said that he had actually "shit my pants to get out of this interview."
Nugent's copious references to dung and defecation prompted Bashir to identify a larger psychological issue that the rocker may be dealing with.
"Mr. Nugent appears to have some kind of obsession with fecal matter," Bashir prefaced a question to Washington Post columnist Jonathan Capehart. "Is this, do you think, a personal fetish or a personal problem?"
"Oh, lord, Martin," Capehart replied through uncomfortable laughter. Capehart went on to observe that Nugent's presence at the State of the Union address "highlights just how course our political discourse has become."
Watch the clip below via MSNBC:
> >Follow Noah Rothman (@NoahCRothman) on Twitter
Have a tip we should know? tips@mediaite.com