Matthews To Michael Steele: Are Black Republicans Told Not To "Bunch Up" At Conventions?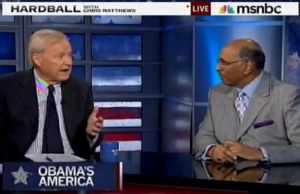 In celebration of Martin Luther King Jr. day, MSNBC host Chris Matthews is unloading all of his race related questions and theories. Earlier he theorized why old white people don't like President Obama. And now he is eager to question former Republican National Committee chairman Michael Steele on whether Republicans are scared of black people if they "bunch up."
Matthews explained:
Matthews: I go to Republican conventions, I go to Democratic and as a white guy . . . one thing I notice about black people at different conventions. You go to Democratic convention . . . and black folk are hanging together and having a good time, they're smiling, they're enjoying themselves, they feel very much at home. You go to a Republican, you get a feeling that you are told, 'individually now, don't bunch up. Don't, don't get together. Don't get together, don't crowd, you'll scare these people.' Is that true in the Republican Party? . . . Did you fear that if you got together with some other African-Americans, white guys might get scared of you?

Steele: No! What are you talking about . . . we could've used a few more brothers in the house, there's no doubt about that.
Steele, Matthews and everyone on the panel of all African American guests had a good laugh over the awkward conversation. And Steele did seem pretty happy overall, so maybe he thought the question was so ludicrous that he got a genuine laugh out of it or maybe he's just happy to be able to speak freely without the constraints of being RNC chair.
Watch the clip from MSNBC below:

Have a tip we should know? tips@mediaite.com