McCain Apologizes For Calling Rand Paul, Ted Cruz 'Wacko Birds' On Fox News: 'That Was Inappropriate'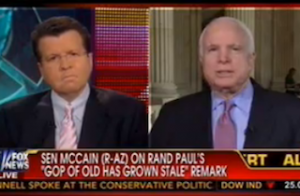 Friday afternoon on Fox News, Sen. John McCain (R-AZ) delivered his first on-camera apology to his Senate colleagues Rand Paul (R-KY) and Ted Cruz (R-TX) for calling them "wacko birds" in an interview with The Huffington Post following Paul's filibuster.
Responding to a question from Neil Cavuto about his recent confrontations with the younger generation of his party, McCain offered a humble and sincere apology. "In an interview I said that Senator Paul and Senator Cruz were 'wacko birds,'" he said. "That was inappropriate. I apologize to them for saying that because I respect them both. I respect what they stand for and what they believe in."
Tying the spat into the larger issues of national security and military spending, McCain added, "but I believe we live in a very dangerous world. And I think the sequestration is outrageous." He said he sees Paul and Cruz as having a "very different view" of those threats.
Cavuto also asked McCain to respond to comments made by Paul during his CPAC speech, in which he said, "the GOP of old has grown stale and moss-covered," adding, "I don't think we need to name any names."
McCain didn't respond directly to Paul's semi-veiled attack, but rather recounted his time serving under President Reagan and made the case for "peace through strength." Making his own not-so-subtle dig at Paul's wing of the GOP, McCain said, "I think we should look at [Reagan's] lessons as to how we rebuild the military, not tear down the military to meet the challenges."
Watch video below, via Fox News:
—
>> Follow Matt Wilstein (@TheMattWilstein) on Twitter
Have a tip we should know? tips@mediaite.com