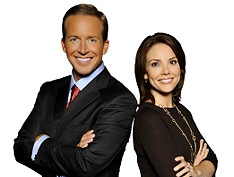 CBS needed to do something with its struggling morning show, but is the soon-to-debut duo of Chris Wragge and Erica Hill the answer? Maybe not.
A survey of media buyers reveals a general consensus among the folks who make key advertising spending decisions: CBS' Early Show was in major need of "something," but "I'm not sure this is it."

According to the survey, reported in Media Life Magazine, media buyers still think morning news is "relevant:"
"People watch them," answered one reader.

"Early snap shots of current event and pop culture events and celebrities," wrote another.

And wrote yet another: "They serve a need for 'background' news and weather and traffic while the viewer is dressing and preparing to leave home."
But CBS' morning show, set for a re-start in January with Hill and Wragge replacing the current team of Harry Smith, Maggie Rodriguez and Dave Price, did not get warm reviews in the survey:
A quarter of respondents think it's a good idea; 25 percent agreed with this statement: "It has been lagging in the ratings for years, and this should give it a fresh look."

Nearly as many, 23 percent, thought not, agreeing with this statement: "Harry Smith is great, and I don't think the problems were on camera. I think they were behind the camera."

But the largest share, 52 percent, was unsure, agreeing with this statement: "Clearly the show needed a shakeup of some sort, but I'm not sure this is it."

Just a small percent believe the makeover will help ratings, a mere 6 percent.
Earning the highest marks from media buyers was NBC's TODAY, followed by Fox News Channel's Fox & Friends and ABC's Good Morning America.
Have a tip we should know? tips@mediaite.com