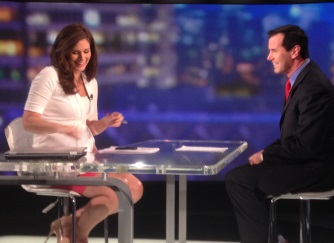 Mediaite's Joe Concha appeared on Out Front with Erin Burnett Wednesday night to discuss the NRA's secret database of gun owners that was revealed last night. Burnett pointed out that the organization has been vehemently against the U.S. government creating a similar list, asking, "I guess it's different when you're doing it yourself right?"
"Can you say wheel of right-wing hypocrites?" radio host Stephanie Miller began, accusing the NRA of "fear-mongering" about something they have now been caught doing themselves. "This is the worst kind of hypocrisy," she said.
CNN commentator (and NRA member) Ben Ferguson defended the NRA, saying they don't know what kind of guns people own, when they bought them and other details. He compared what the organization was doing to marketing that Facebook and Google does. "It's laughable that I should somehow be afraid of the NRA now because they do the same thing that everybody else is doing."
Finally, Concha got a chance to weigh in, calling the NRA's move "smart business" and comparing it to when he went to J. Crew earlier today. When they asked him for his email address, he said he gave them his fake one (or is it?): dirkdiggler13@hotmail.com.
On a more serious note, Concha said the NRA is doing this "because it's good business and they want to expand membership base." The problem he saw is that "most of these lists are compiled without the knowledge of these gun owners" so that's where he sees "hypocrisy."
Watch video below, via CNN:
[photo via screengrab]
—
>> Follow Matt Wilstein (@TheMattWilstein) on Twitter
Have a tip we should know? tips@mediaite.com