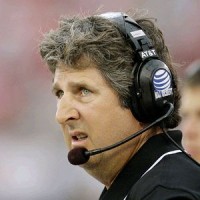 Texas Tech has suspended their head football coach, Mike Leach, from their upcoming bowl game against Michigan State for allegedly locking a player in an electrical closet. That player just so happens to be Adam James, son of ESPN college football analyst Craig James. The younger James had suffered a mild concussion at practice the day before, was examined, and told not to practice because of an elevated heart rate. Apparently, coach Leach thought that his player was milking the injury, and a source close to the family tells ESPN that Leach ordered a trainer to move James "to the darkest place, to clean out the equipment and to make sure that he could not sit or lean." That dark place was allegedly a cramped electrical closet, where James was forced to stand for three hours:

A source told The Associated Press that James said Leach told him if he came out, he would be kicked off the team.

According to the source, Leach told the trainer, two days later, to "put [James] in the darkest, tightest spot. It was in an electrical closet, again, with a guard posted outside."
The coach maintains that he did nothing wrong and that the closet in question was actually a spacious garage. The university, however, is still suspending him, and has launched their own investigation…because, you know, he locked one of their students in a closet.
As if being accused of locking a concussed player in an enclosed space wasn't bad enough, the situation gets spicier for Mike Leach. James' dad is a popular college football analyst and a legend in the state of Texas (where, in case you haven't heard, they take football a tad seriously). Ironically, he was set to cover Texas Tech's bowl game for ESPN, but the network has pulled him from the telecast.
Rick Sanchez reports (though make sure you click on "next page" below, to see our collection of wacky videos of Coach Mike Leach) :
It's a stunning turn of events for a coach who was seen as one of the most innovative young minds in college football. Just last season Leach was the quirkily lovable subject of 60 Minutes puff piece, where he was seen coaching his underdog team to victories over big schools and being praised by Moneyball author Michael Lewis. He's also somewhat of an internet sensation, known for his rambling speeches and doing a guest stint as a weatherman on a local news station. Next, take a look at some of his greatest hits.
Have a tip we should know? [email protected]