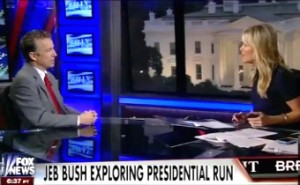 With former Florida Gov. Jeb Bush announcing his exploration of possibly running for president, Megyn Kelly wondered to Sen. Rand Paul (R-KY): Why haven't you made a decision yet?
"Some people are saying, come on, senator, make a decision," the Fox News host relayed to the senator Tuesday evening. "Why is Jeb Bush out ahead of you?"

Sen. Paul was hesitant to opine on Bush's decisions, telling Kelly, "Maybe he has more ground he needs to gain. He's been out of this for a while, so maybe he needs to get back in and practice up a bit."
Kelly followed up: "So six months out?" The senator indicated he will, indeed, wait a few more months.
The Fox host then brought up Sen. Paul's previous remarks that any Republican's support for Common Core education standards would be a "big problem" for them in a primary. "That seems to be a direct shot at him," Kelly noted.
"It would be very difficult," the senator reiterated. "Most of us believe in less federal government and more decentralized government, particularly with education." He continued:
You know, Ronald Reagan ran on the platform of getting rid of the Department of Education. We've always believed in decentralized education. So for Jeb Bush to run in the primary will be very, very difficult because if you're going to be for a national curriculum and for Common Core and No Child Left Behind, this accumulation of power in Washington, that's not very popular.
Watch below, via Fox:
— —
Have a tip we should know? tips@mediaite.com