Melissa Harris-Perry's Delusional Assessment Of Detroit: Happens When Gov't 'Small Enough To Drown' In Tub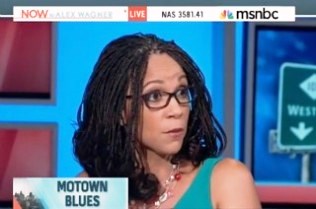 MSNBC's panel guests on Friday's Now tackled the problems facing Detroit in the wake of their chapter 9 municipal bankruptcy filing – the largest single municipal bankruptcy in the history of the United States. The panel's predictable diagnosis was that Detroit suffered from a terminal lack of government. Where to begin…

"Detroit's going to come back. It is going to come back," declared former Vermont Gov. Howard Dean. "When you have a median home price of $45,000, people are going to go buy those houses sooner or later."
"But you've got to have a government to run the place," Dean snuck in at the end, ruining a perfectly reasonable observation.
MSNBC host Melissa Harris-Perry went on to note that Detroit's tax base, e.g. the city's population, has declined dramatically in the last decade. Harris-Perry presents this fact as though former Detroit residents left – estimated in 2011 at one resident every 22 minutes — on a whim without making a cost/benefit calculation as to whether to continue to reside in a city with one of the highest violent crime rates in the nation with a poverty rate of a staggering 40 percent.
Furthermore, since Detroit's population has fallen below 750,000, it was not legally allowed to collect income taxes from its residents until Gov. Rick Snyder and the state' legislature reduced that threshold to 600,000 two years ago. The city's population hovers today around 700,000 residents.
"But this lack of tax base is also exactly the thing that many Republicans would impose on us even when our cities have sufficient populations," Harris-Perry added. "Even when our communities have sufficient populations."
"This is what it looks like when government is small enough to drown if your bathtub and it is not a pretty picture," she said.
"Detroit today employs one city worker for every 55 residents, as opposed to one city worker for every 109 residents in Charlotte, which is just barely bigger than Detroit (the Motor City has indeed declined so much) and one city worker for every 101 residents in El Paso, which is one spot down from Detroit on the population rankings," wrote National Review economics blogger Kevin Williamson … in 2011.
If you believe that the circumstances faced by Detroit's city managers has improved in the last two years, I've got a crime-ridden, bankrupt city for you to invest in.
Detroit maintains 13,000 government workers but has 22,000 government retirees burrowed into the body politic, and their health-care subsidies alone account for nearly $200 million of the city's budget. Pensions alone already account for a quarter of city spending; in three years, they will account for half. Pensions and city workers' health-care subsidies account for $561 per year from every resident of Detroit, which has a very poor population — average monthly income of barely $1,200 before taxes, a fifth of the population in poverty, etc. The official unemployment rate is 30 percent; the real rate is much higher.
In 2012, the city voted to "allocate $28.1 million from departments across the city to pay for pension costs that are still due from last year." In June, the city declared a "moratorium on principal and interest payments on the city's unsecured debt" — essentially, they stopped paying their bills in order to service the city's public pensions.
Detroit has a lot of problems. Having too small a government has never been one of them. On this topic, it would appear, Harris-Perry is either not being honest or is not properly informed of the legacy burdens Detroit's city government must to shoulder.
> >Follow Noah Rothman (@NoahCRothman) on Twitter
This is an opinion piece. The views expressed in this article are those of just the author.