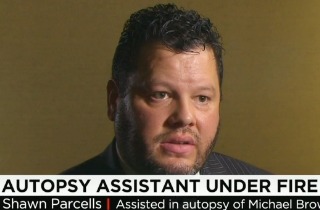 CNN's Elizabeth Cohen filed a story last night scrutinizing the background of Michael Brown autopsy assistant Shawn Parcells (who was commissioned by the Brown family) and accusations from others that he is a "fraud." Parcells had worked on Brown's autopsy alongside pathologist Dr. Michael Baden and made several cable news appearances over the past few months.
For starters, Parcells says he's an adjunct professor at Washburn University, but when CNN reached out, Cohen says the university denied that claim. Meanwhile, two deputies from the Holt County Sheriff's Office in Missouri don't think very highly of Parcells. One called him a "fraud" and a "very good con artist." They say he performed an autopsy without a doctor present and they can't move forward on a potential manslaughter case because the autopsy wasn't done legally.
Parcells admitted to CNN he sometimes does autopsies without doctors in the room, but got really steamed at the mention of a funeral home director claiming he never showed up for an autopsy and maggots appeared on the body before he could look at it. Parcells said, "Holy shit! Excuse my language, but I've got fucking emails to prove he and I going back and forth and the fact that he ignores me. He's a dick!"
The chief medical examiner for St. Louis County has a simple answer for why no one has gone after Parcells, even if they think he's a fraud: prosecutors may have prosecuted cases based on his findings and don't want them overturned.
Watch CNN's report below:
[image via screengrab]
— —
Follow Josh Feldman on Twitter: @feldmaniac
Have a tip we should know? tips@mediaite.com
Josh Feldman - Senior Editor