Michele Bachmann Criticizes Gingrich's Immigration Policy On Fox & Friends, Gingrich Responds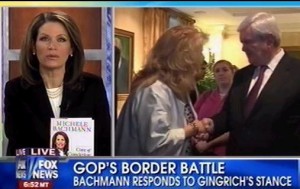 Now that Newt Gingrich is the frontrunner in the GOP race, much of the media and political spotlight is on him, and the latest controversy to surround his campaign is his "humane" immigration policy that he made the case for at this week's Republican presidential debate. One of Gingrich's chief rivals, Congresswoman Michele Bachmann, appeared on Fox & Friends earlier today to give more insight into the former Speaker's past stances on immigration policy.
Bachmann highlighted Gingrich's past support of President Bush's amnesty policy, and was for amnesty as recently as last year. She admitted if Gingrich was only referring to illegal immigrants who have resided in the United States for over two decades as opposed to recent influxes of immigrants, Gingrich's comments made more sense, but doubted this was his actual position.
She boasted that she was the only candidate running for president who signed a pledge to build a wall on the U.S.-Mexico border, and denied she ever supported anything but the letter of the law in her immigration positions.
RELATED: Joe Scarborough: With His Immigration Comments, Gingrich 'Strapped On Same TNT' As Rick Perry
Bachmann's comments clearly struck a nerve, and this afternoon Gingrich's campaign responded by releasing a statement directly responding to her allegations.
"I am for deporting all recent unattached illegals. I am for a local citizen panel to consider certification of those who have been here 25 years and have family and community and have been law-abiding and tax paying. They could get what the Krieble Foundation developed as a 'red card' and be legal, but with no path to citizenship and no right to vote."
Gingrich spokesman R.C. Hammond also told Fox News in an e-mail that Bachmann "is intentionally lying to people or she does not understand immigration reform." Earlier this week on PBS NewsHour, Bachmann called Gingrich's immigration policy the "most liberal" position of all the Republican candidates.
Watch Bachmann's appearance here, courtesy of Fox News:
And Gingrich's response is below, also from Fox:
Have a tip we should know? [email protected]
Josh Feldman - Senior Editor