Mindy Kaling Takes on Diversity at SXSW: 'I'm a F*cking Indian Woman Who Has Her Own F*cking Show'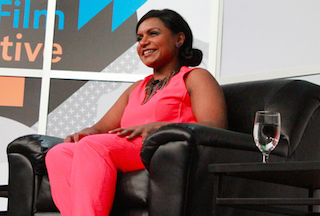 During a SXSW panel to promote her Fox sitcom The Mindy Project, creator/star Mindy Kaling had some strong words for an audience member who asked why her character was "the only doctor of color on the show." Kaling responded, "I'm a fucking Indian woman who has her own fucking network television show."
According to Flavorwire's Jason Bailey, who attended the Marie Claire-sponsored panel titled "Running the Show: TV's New Queen of Comedy," Kaling let her two white male co-stars, Ike Barinholtz and Adam Pally, give more innocuous answers to the question before defending herself more bluntly.
"I look at shows on TV, and this is going to just seem defensive, but I'm just gonna say it: I'm a fucking Indian woman who has her own fucking network television show, OK?" she told the mostly female crowd. After some applause, Kaling elaborated:
"I have four series regulars that are women on my show, and no one asks any of the shows I adore — and I won't name them because they're my friends — why no leads on their shows are women or of color, and I'm the one that gets lobbied about these things. And I'll answer them, I will. But I know what's going on here. It is a little insulting because, I'm like, God, what can I — oh, I'm sitting in it. I have 75 percent of the lines on the show.

And I'm like, oh wait, it's not like I'm running a country, I'm not a political figure. I'm someone who's writing a show and I want to use funny people. And it feels like it diminishes the incredibly funny women who do come on my show… I don't know, it's a little frustrating."
Kaling's comments come on the heels of controversial statements another prominent comedian, Jerry Seinfeld, made during an interview with BuzzFeed. While Kaling implicitly acknowledged the need for diversity in comedy and pointed out her own role in that effort, Seinfeld rejected the notion entirely.
Asked why the guests on his web series "Comedians in Cars Getting Coffee" have been primarily white men, Seinfeld answered, "People think that it's the census or something, it's gotta represent the actual pie chart of America. Who cares? Funny is the world that I live in. You're funny, I'm interested. You're not funny, I'm not interested. And I have no interest in gender, or race, or anything like that."
[photo via Flavorwire]
— —
>> Follow Matt Wilstein (@TheMattWilstein) on Twitter
Have a tip we should know? tips@mediaite.com