Mitt Romney Heckles Beloved Bakery, Says Cookies 'Came From The Local 7-Eleven'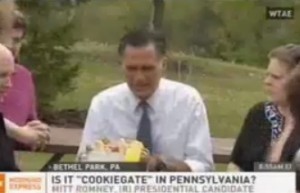 Presumptive GOP nominee Mitt Romney broke two of the comedy rules that Jon Stewart gave him on last night's Daily Show by sitting at a table with his audience, and by heckling them. Joking with voters at a Pennsylvania campaign stop Tuesday, Romney slammed a plate of cookies from the Bethel Bakery, saying "I'm not sure about these cookies, they don't look like you made them. Did you make those? No, they came from the local 7-Eleven or whatever."
The remark reveals that Romney might have something of a penchant for insult humor. In February, he needled some NASCAR fans about their cheap plastic rain ponchos.
Here are a few cookie jokes that Mitt Romney decided not to use:
Your cookies are so cheap, the elves who make them live in a van down by the river.

Your cookies are so cheap, when you call them "chocolate chip cookies," you mean it literally: one chocolate chip.

Your cookies are so cheap, even 6 year-old Barack Obama wouldn't eat them.
According to CNN, though, the bakery is taking it all in stride, and who knows, Romney's remarks might even be good for business:
After his remarks rippled across the Bethel Park community outside of Pittsburgh, the 57-year-old bakery on Wednesday began offering a 'CookieGate' special: Buy a dozen, get a half-dozen free.

"I'm sure he meant it all in jest and didn't mean to slam a local bakery," Julie Lytle, the bakery's spokeswoman, said. "It's nothing that we want to get really upset about it, no reason to be angry. We're just having fun with it."
That's all well and good for the bakery, but what about 7-Eleven? There's only one Bethel Bakery, but there are thousands of 7-Elevens. How are they supposed to sell cookies now? Slurpee™ Summit, anybody?
Here's video of Romney's remarks, from HLN:
Have a tip we should know? tips@mediaite.com