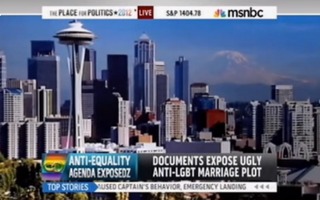 MSNBC has evidently embraced a new gimmick, first performed by Lawrence O'Donnell on a March 26 show in which a lawyer for George Zimmerman failed to appear, where the host angrily interrogates an empty chair. That particular segment, while perhaps a bit heavy on the sanctimony, was great television – to the point that MSNBC afternoon host Thomas Roberts decided to emulate it on Wednesday. However, it has since been revealed that Roberts' guest did not cancel last minute, as Zimmerman's lawyer had, but the guest was simply improperly booked.
In a segment on recently revealed documents from the National Organization for Marriage, which identify their strategy to pit African American opponents of gay marriage against homosexuals and thus split two key Democratic voting blocs, Roberts invited NOM spokesperson Maggie Gallager on his program to defend her organization's tactics.
When she failed to show, Roberts interviewed gay marriage supporter Wayne Besen about the documents while occasionally referring to Gallager's chair. Well, after the segment aired, Roberts' admitted that Gallager was simply in the wrong studio at the time of the interview.
"MYSTERY solved… @maggiemarriage was in a studio ready for our #nom interview it was just the wrong studio booked improperly on @msnbc_booking IT WAS OUR MISTAKE and she has an open invite for the show," Roberts wrote on his Twitter account. "Our sincerest apologies."
"Embarrassing" does not quite do justice to this episode.
At the blog Inside Cable News, the anger over this incident is palpable:
There is no justification for what Roberts did on the air. None. Zero. It was over the top and inappropriate. The proper way to handle it is to say that a guest was scheduled to appear but couldn't make it in time and we hope they will appear in the future. Then you move on and don't refer to it again. Given that you don't know what actually happened you must err on the side of caution…for reasons that now seem all too obvious given that it was MSNBC booking that screwed up.
Had Roberts been aware of the mistake, it is unlikely he would have ran with the empty chair. However, his staff should have informed him of the error prior to airing this embarrassing segment. To his credit, Roberts displayed some contrition after the fact, but by then the damage was done.
Watch the video below via MSNBC:
h/t The New Civil Rights Movement
Have a tip we should know? tips@mediaite.com