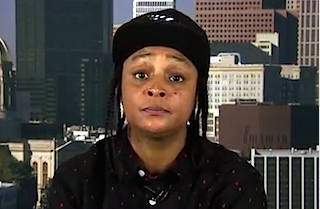 For many people who don't live in Baltimore, pretty much everything they know about that city comes from HBO's The Wire, AKA the most critically-acclaimed television drama of all time. So with the resurgence of focus on Baltimore that has come with the death of Freddie Gray and subsequent protests we have also seen the media turn to anyone involved in The Wire who may or may not have something insightful to say about the issues that have been raised.
The show's creator David Simon penned a plea for the rioting to stop and went in-depth with former New York Times executive editor Bill Keller about how the city got to where it is today and what it will take to change it.
Similarly, over the last few days MSNBC has tracked down various actors from the show to give their takes, compiling the highlights in the video below.
Felicia Pearson ("Snoop"), who actually knew Freddie Gray personally:
"I don't know nothing about [Gray's] criminal past, or nothing like that, but he was just a fun-loving person every time I encounter with him… Baltimore city, they took away our schools, they took away our recreation centers. Where do you push your youth then? On the corners."
Sonja Sohn ("Detective Kima Greggs"):
"Shooting in Baltimore was a bit disconcerting to say the least. I think a lot of us had come from other cities and we experienced sort of, you know, the sense of despair in the communities that we were shooting in… I'm hoping that the city leadership listens to the cries for help, which in essence the violence was in my opinion, and gives them what they need. Give the people of Baltimore what they deserve."
J.D. Williams ("Bodie Broadus"):
"I knew of myself and several other actors who were arrested, with the same M.O. basically, you know, for a minor infraction or nothing at all, held for 8-10 hours and then let go without any type of a charge or even a reason… And the way that the police treat the people regardless of any type of circumstance or any type of situation, you know, I've experienced it."
Gbenga Akinnagbe ("Chris Partlow"):
"People feel that they know Baltimore, but I think unless you have been here and lived here for some time and are affected by the city, you don't know Baltimore, but The Wire is a good way to start to have that conversation."
For better or worse, The Wire is how many — mostly white — Americans know about the struggles of Baltimore. That is, at least, until this week.
Watch video below, via MSNBC:
[Photo via MSNBC/screengrab]
— —
>> Follow Matt Wilstein (@TheMattWilstein) on Twitter
Have a tip we should know? tips@mediaite.com