MSNBC Hosts Mock Fox News 'Talent' Karl Rove For Refusing To Accept Network's Victory Call For Obama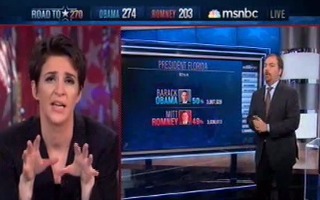 The hosts of MSNBC's election coverage caught wind of the ongoing feud at Fox News Channel between Karl Rove and the network's decision desk over the validity of calling Ohio for President Barack Obama. The hosts took to both mocking Fox's anchors and questioning the politics of a major donor who backed Mitt Romney attempting to force his network to revisit their calling the election for the president.
"I don't mean to cross-advertise here, but I want to note that conservative cable news network Fox News Channel – Fox News Channel called Ohio for Obama, but the on-air talent is refusing to concede that they believe it," Rachel Maddow said.
"Karl Rove is describing this as being just like 2000 and it is not over," Maddow added.
"Can you define that word 'talent' for the people who are not in this industry," asked Chris Matthews. "They happen to have positions. It doesn't say anything about their quality."
"People who wear makeup and have cameras pointed at them," Maddow replied.
After Chuck Todd explained why it was impossible for Mitt Romney to make up the vote he would need to carry the state, Maddow continued to lambaste Rove and Fox News Channel.
"What's happening on the right is that one of the on-air contributors on the Fox News Channel is also one of the single largest outside contributors in favor of Mitt Romney, who is Karl Rove, who is now trying to get – on air – to rescind its call in Ohio in favor of the candidate that he has bankrolled to the tune of hundreds of millions of dollars," Maddow said.
Todd said that the dissonance was expected, because so many conservatives had convinced himself that the polls leading up to this election were "skewed."
Watch the clip below via MSNBC:
> >Follow Noah Rothman (@Noah_C_Rothman) on Twitter
Have a tip we should know? tips@mediaite.com