The Loser One! Donald Trump Calls For 'Revolution' And 'March On Washington' Over 'Phoney' Obama Victory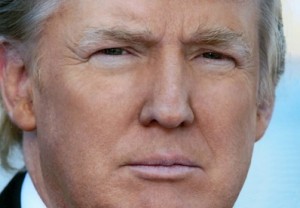 If he had any of "it" to begin with, you could accurately say that Mitt Romney backer and serial Barack Obama humiliatee Donald Trump is losing it on his Twitter feed. A resigned Trump greeted news of President Obama's victory with a reasonable-enough "Well, back to the drawing board!"
But Trump quickly descended into apoplexy, tweeting (for starters) "He lost the popular vote by a lot and won the election. We should have a revolution in this country!" and "The phoney electoral college made a laughing stock out of our nation. The loser one!"
Liberals everywhere are doubtless savoring the tears of rage flowing from conservatives tonight, but for a truly ambrosial treat, there's no topping The Donald's Twitter feed (yes, these are all real):
Well, back to the drawing board!

He lost the popular vote by a lot and won the election. We should have a revolution in this country!

The phoney electoral college made a laughing stock out of our nation. The loser one!

We can't let this happen. We should march on Washington and stop this travesty. Our nation is totally divided!

Lets fight like hell and stop this great and disgusting injustice! The world is laughing at us.

More votes equals a loss…revolution!

This election is a total sham and a travesty. We are not a democracy!

Our country is now in serious and unprecedented trouble…like never before.

Our nation is a once great nation divided!

The electoral college is a disaster for a democracy.
Trump, it appears, never made it out of the electoral 5th grade. For good measure, Donald laid out what is likely to become a serious strategy for the newly-defeated GOP:
Hopefully the House of Representatives can hold our country together for four more years…stay strong and never give up!

House of Representatives shouldn't give anything to Obama unless he terminates Obamacare.
As delicious as Trump's complete disintegration is, it's worth noting that his calls for civil war are entirely in keeping with the kind of campaign that he helped Mitt Romney run. It almost worked this time, but it's not likely to ever again. If they're smart (a big if), Republicans will throw Trump and his brand of politics overboard.
Have a tip we should know? tips@mediaite.com