MSNBC's Harris-Perry Attacks Snowden For Trying To 'Save His Own Skin': He's No Wendy Davis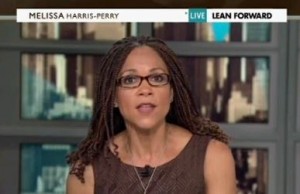 MSNBC's Melissa Harris-Perry sees some value in the information brought to the public's attention about NSA surveillance, but really, really hates the man who leaked it. On her show today, Harris-Perry scolded Snowden for fleeing the country to carry out his act of civil disobedience rather than staying in the United States and facing the consequences (in this case, being charged of espionage against the government). She compared Snowden to Martin Luther King Jr., Nelson Mandela, North Carolina protestors, and, I swear to God, even Wendy Davis. The thing is, I don't recall any of these people being charged with espionage, which is kind of serious crime.
RELATED: Snowden's Father Says Son Hasn't Committed Treason, Raises Concern About WikiLeaks Manipulating Him
Harris-Perry briefly recaps how Snowden ended up in the Moscow airport and what action President Obama says is being taken to get him back. She also pointed to Ecuador "openly and pretty gleefully tweaking the United States" by considering granting Snowden asylum.
She then addressed the claims of Snowden defenders that he's a "hero" and has done something "brave" and important for the public to know. Harris-Perry allowed there is some value to the information Snowden released, but shared her "beef" with his other actions.
"Once you've decided to be a defender of those ideals, you have to be prepared to face the consequences. That is the whole point of civil disobedience, to show that you are willing to risk your own freedom, your own body, in order to bring attention to something that needs to be known."
First off, I'm going to go out on a limb here and say the actual act of releasing top-secret, classified documents was kind of a big risk in and of itself. But, fair enough. Harris-Perry believes that acts of civil disobedience need to be backed up with actions instead of just platitudes.
She continues:
"Martin Luther King, Jr. was arrested, attacked, smeared. Nelson Mandela went to prison for 27 years. Protestors today in the North Carolina state house are being arrested every Monday! This week, a state senator in Texas fought against devastating restrictions on abortion rights by filibustering for eleven hours without food or bathroom breaks or sitting or leaning for even a moment. Ed Snowden, on the other hand, has gone on the run!"
…come again?
Wendy Davis stood up for what she believed in and got lots of well-wishers all around the country. Supporters flooded the Texas state legislature, and agree or disagree with her position, it was a huge moment for civic activism.
That being said, you have got to be kidding me if you're going to compare what she did to what Edward Snowden did. She is a member of the Texas state government who did what legislators are wont to do at times and take a stand against a bill that she believed would be devastating for women's rights. Snowden wanted to expose to the public what its federal government was doing behind an iron curtain of secrecy. The executive branch and all the intelligence agencies wanted to keep the whole thing quiet, and because there is such a wide bipartisan consensus in Washington for this kind of secret surveillance, no one in the United States Congress was able to get up and filibuster and force a national conversation on this issue like Wendy Davis did with abortion.
Harris-Perry concluded, "I can see merit in our knowledge of the NSA programs, but Edward Snowden is risking a lot to save his own skin." Well, if you had members of Congress accusing you of being a traitor to your country, how far would you go to save your own skin?
Watch the video below, courtesy of MSNBC:
—–
Follow Josh Feldman on Twitter: @feldmaniac
Have a tip we should know? tips@mediaite.com
Josh Feldman - Senior Editor