Still A Free Agent? Signing Greenwald Exclusively Should Be Priority For CNN, Fox or MSNBC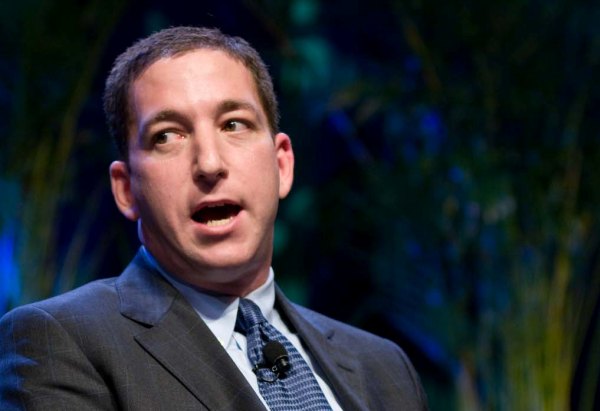 When it comes to on-air talent, cable news execs are always looking to trade up.
And oftentimes, they're studying the guest roster to see who could potentially be upgraded to a full-time contributor or even a host.
Who will be the next Rachel Maddow?
Megyn Kelly 2.0?
The future S.E. Cupp? (Who has now hit for the cycle–pun intended–in being a regular on Fox News, MSNBC and now CNN)
All of the aforementioned women were once guests of cable news programs. You know the rest of the story: Each of them brought the kind of energy, passion, unique perspective, and confidence that made them the (well-paid) stars they are today.
Over the past few weeks and particularly since the Edward Snowden NSA scandal broke, Glenn Greenwald has been the go-to guest on all the national and cable news networks. From MSNBC to FOX to CNN, Greenwald is the most coveted interview on the circuit today.
And it isn't just because he broke the Snowden story, much to the obvious chagrin of other so-called hard news journalists who haven't broken a story, like, ever. It's because Greenwald has three qualities that producers and most anchors love in a guest:
He's candid.
Conversant.
And perhaps most importantly, confrontational.
He also knows how to speak in sound bites (harder than it looks). And as NBC's David Gregory discovered last Sunday, he isn't afraid to throw an effective kidney punch when the anchor makes an arbitrary accusation (Frank Rich, a New York Magazine columnist (formerly NYT) who won't be invited to CPAC anytime soon, followed up with a stinging right-cross you can read about here that made this week a particularly unmemorable one for the Meet the Press host).
So as Greenwald generates more attention and takes on more of the mainstream media and government establishment, he also makes himself a bigger target. Exhibit A was Gregory, Exhibit B is Andrew Ross Sorkin of the aforementioned New York Times, who declared he'd almost like to have Greenwald arrested, because, you know, Greenwald actually flew that plane with Snowden on it from Hong Kong to Moscow, and actually helped downloaded all of those files from the NSA.
Or…maybe he's just a guy just doing his job as a journalist.
Exhibit C can be found this week in the New York Daily News, which somehow believes exposing Greenwald's past—over a decade ago—as a lawyer once sued over a porn business will somehow diminish his standing as a journalist today. Greenwald's answer is the kind of unfiltered honesty we've come to expect from the Guardian (U.S.) reporter:
"I'm 46 years old and, like most people, have lived a complicated and varied adult life. I didn't manage my life from the age of 18 onward with the intention of being a family values U.S. senator. My personal life, like pretty much everyone's, is complex and sometimes messy."
And in his column this week, Greenwald grumbled that the New York Times and Daily News had been looking into his problems with another government agency under scrutiny recently, the IRS. Per Greenwald:
"If journalists really believe that, in response to the reporting I'm doing, these distractions about my past and personal life are a productive way to spend their time, then so be it…None of that – or anything else – will detain me even for an instant in continuing to report on what the NSA is doing in the dark."
Meanwhile, a Wall Street Journal editorial released today asks the question "Who Helped Snowden Steal State Secrets?" while making it very clear the author is suggesting Greenwald did.
Greenwald, who is openly gay, lives in Rio. He's about as far removed from that bubble the American media lives in as any reporter can be.
Folks like Gregory and Sorkin are bubble boys, and that may not be a good thing.
But if CNN, Fox or MSNBC are looking for the next effective talking head—the kind who could host his own show one day—they'd be wise to sign him to an exclusive contract.
Today.
—-
UPDATE: Watch my appearance on Fox News Watch below discussing Glenn Greenwald and the Media below:

—-
Follow Joe Concha on Twitter @ConchSports
Have a tip we should know? tips@mediaite.com