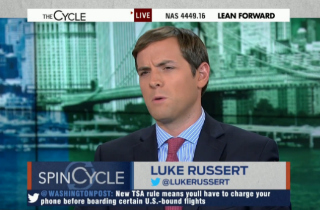 MSNBC resident dudebro reporter Luke Russert has a simple message for those complaining about new TSA rules that will require U.S.-bound passengers to turn on their cellular devices before boarding: "Sack up!"
The new Transportation Security Administration policy comes as a response to growing fears of an ISIS terrorist attack on flights headed to the United States from certain international airports.
"I've seen on the blogosphere, on the Twitters, people complaining about this," Russert said, squinting so you know he's super-serious. "'What happens if my cell phone isn't charged? My laptop's not charged? I won't be able to get on the plane?'" he mimicked potential questions from skeptical travelers, before declaring: "Sack up!"
Shut up and stop complaining, Russert said, because "this is what the Department of Homeland Security says is a viable threat to the United States' safety and security. If you could not charge your phone, I'm so sorry for you. Go to the little place at the airport two hours before, hook it up, they have it."
"Most Americans don't fly more than three times a year," he added. "A lot of this whining comes from people who fly more. Do what you and I do, go to TSA-pre. It's very noninvasive. You're a business traveler, I'm sure you can afford it."
He later said: "I cannot stand people who complain and moan about the TSA." And then he added this mocking bit:
All it takes is one time and everybody goes, where was the TSA? Why did they fail? Where were they? Sack up! Get in line, take off your shoes if they ask you, turn on your cell phones, charge them up. Prepare yourself for the airplane.
Contrary to what you might think, "sack up" is not a colloquial phrase Russert uses while playing hacky sack with his bruhs in the park on Saturdays. According to UrbanDictionary, it is "a demand to be a man and to stop acting craven or cowardly."
Watch below, via MSNBC:
[h/t Mark]
[Image via screengrab/MSNBC]
— —
>> Follow Andrew Kirell (@AndrewKirell) on Twitter
Have a tip we should know? [email protected]