MSNBC's O'Donnell Laughs as Granholm Claims Clinton's Answered Questions on Email Story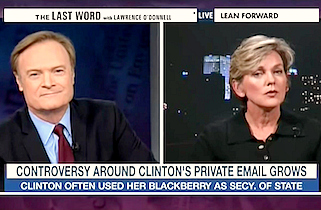 Is Hillary Clinton refusing to answer questions about the New York Times report that she conducted State Department business exclusively on a personal email account as Secretary of State? As of last night's Last Word with Lawrence O'Donnell, Clinton had yet to address the report, though she'd had ample opportunity at a speech Tuesday night.
O'Donnell, who's been emphatically pursuing the story to the point that he's been used in RNC ads, wondered about the silence to former Michigan Governor Jennifer Granholm. "Would you as a governor refused to have answered the question of 'why did you do this' for this length of time?" O'Donnell asked.
"I don't think she has refused to answer the question," Granholm said. "I think her spokespeople have been out there–"
O'Donnell laughed. "No, she has," he snapped. "Reporters are getting refusal to answer."
The MSNBC host double-checked with New York Times reporter Josh Barro, who explained that the Times had had difficulty prying responses from the Clinton camp. He added that the delay in Clinton turning over emails to the State Department made it "too late" for any appearance of propriety.
He then threw to Granholm for the last word. (That's the name of the show!) "I don't think it's too late," she said. "The AP should make and renew their request. They're in the right place. Do it."
About one half-hour after the show, Clinton tweeted about the story, calling on the State Department to release her emails.
Watch the clip below, via MSNBC:
[Image via MSNBC/screengrab]
——
>> Follow Evan McMurry (@evanmcmurry) on Twitter
Have a tip we should know? tips@mediaite.com