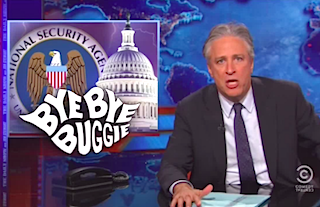 Jon Stewart congratulated the Senate on failing to pass an extension of the Patriot Act's NSA metadata surveillance. "My God! We're no longer tracking metadata! This is an emergency!" he exclaimed before calling up John Oliver and shouting "Penis! Penis! Penis!" into the phone.
"Even though the Patriot Act expired, it doesn't really seem like the country has pummeled into chaotic violence-based terror-ocracy," Stewart noted, despite claims to the controversy by President Barack Obama and others. "What sort of anti-American bastard organization would let this happen?" he asked. Oh yeah, the Senate.
But even with the Patriot Act, Stewart noted that we have seen terrorist attacks since 9/11, from the Fort Hood shooting to the Boston Marathon bombing to last month's Garland, Texas attack. "And in each case, those were individuals our government had been alerted about, did know about," he said. "So if the Patriot Act is acting so poorly, why do we have to keep it?"
"If we have nothing to fear from the Patriot Act and it's the only thing keeping ISIS from turning America's national parks into jihadi summer camps, why didn't extending it pass?"
The answer to that would be Sen. Rand Paul (R-KY), according to his Republican presidential opponents and other foes. "I've run for president twice but never stooped to something like this," Sen. John McCain (R-AZ) said of Paul's stand.
"He'd only stoop to something like this…" Stewart said, unveiling the inevitable photo of Sarah Palin.
Watch video below, via Comedy Central:
[Photo via screengrab]
— —
>> Follow Matt Wilstein (@TheMattWilstein) on Twitter
Have a tip we should know? tips@mediaite.com