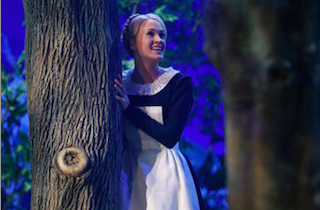 The live television musical is now officially a thing again. On Monday, Fox announced a 3-hour live production of the classic musical Grease to air in 2015, following the ratings success of NBC's The Sound of Music Live! last December. Casting decisions have not yet been revealed.
"From Broadway to film, and across generations, Grease is one of the most beloved musical stories ever told — and we can't wait to bring it to our air in a spectacular live event," Fox's senior VP or event series Shana C. Waterman, said in a statement. "Its iconic characters and addictive songs make it the perfect fit for Fox, and we're going to give it the kind of star power and production quality to make every Sandy, Danny, Rizzo and Kenickie out there want to get up and sing along."
The live production of The Sound of Music Live!, starring Carrie Underwood in the role made famous on screen by Julie Andrews, brought in an astonishing 22 million viewers for NBC, the highest non-sports Thursday rating the network had seen since Friends and Fraiser aired their series finales in 2004. NBC already has a live production of Peter Pan in the works for this December.
Reviews, on the other hand, especially for Underwood's acting, were not as enthusiastic. "Carrie Underwood played the singing governess in the live NBC performance of The Sound of Music on Thursday and seemed to be sleepwalking," The New York Times' Alessandra Stanley began her review.
"The strength of the songs and of her own vocal talents pulled her through when she was singing. It was the speaking that did her in," USA Today's Robert Bianco wrote. "The eyes went blank, the voice went flat, and Maria turned to wood."
The Washington Post's Hank Stuever was even more harsh, writing, "It's impossible not to notice that she can't act."
Perhaps viewers will continue to tune in to these TV events to see whether further train wrecks can be avoided.
Here's a reminder of what NBC's production looked like, in case you missed it:
[Photo via screengrab]
— —
>> Follow Matt Wilstein (@TheMattWilstein) on Twitter
Have a tip we should know? [email protected]