NJ Governor Chris Christie Gets It Right On Half-Mast Flags For Whitney Houston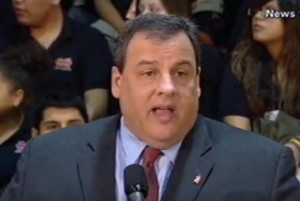 The sudden, tragic death of singing legend Whitney Houston has dominated cable news this week, and her troubled history has brought out the crank in many a media figure. New Jersey Governor Chris Christie has found himself in the position of defending his decision to fly flags in the state at half-mast from the more judgmental of his constituents. While I agree with him on little else, his decision to honor Houston, and his defense of that decision, are spot-on.
Objections to the half-mast honor ostensibly center around the late Ms. Houston's very public struggles with substance abuse, and critics of Christie's decision contrasted the singer to New Jersey residents who have fallen in combat in Iraq and Afghanistan. Gov. Christie engaged critics on Twitter in characteristically blunt fashion.
Responding to a critic who said "Shame on you for ordering our flag to be flown half-mass for a singer who od'd! What about our soldier and real Heros?#Awful," Christie responded "Every NJ soldier who has been killed in action during my Adm had the flags lowered in their memory. Learn your facts before accusing."
RELATED: Whitney Houston's Private Funeral Will Be Streamed Live Online
Seaside Heights resident Joe Bella tweeted, at Gov. Christie, "glorifying a drug user. She was such a great role model . Yo what a joke"
Christie replied "You are a joke. We do lower the flag for fallen soldiers and police officers. Learn the facts before accusing."
But it was Christie's response to criticism, in remarks to reporters, that really summed it up best. "I understand that some will disagree," he said. "Every decision I make, someone disagrees with. I believe that drug addiction is a disease. And I think that she struggled mightily with that disease. And I don't believe that that diminishes the cultural contributions she made to this state."
On CNN's Starting Point Friday morning, host Soledad O'Brien and her panel praised Christie's decision to fly flags at half-mast ("Half-staff, or half mast?" O'Brien asked. Either is acceptable.), but there was one moment in the segment that was uncomfortable. Before playing the clip of Gov. Christie responding to criticism, O'Brien displayed some of the tweets that Christie has had to contend with, including one from Danielle Olivieri that said "She's not a fallen hero. I am not alone in taking offense to this. She's no role model. She's a dead junkie."
O'Brien didn't seem prepared for the viciousness of that tweet, immediately adding "Totally inappropriate."
That moment illustrates the pitfalls of our social media-enmeshed society. There were plenty of other, less offensive tweets that Starting Point could have used. They, and other news shows that try to integrate Twitter into their coverage, ought to realize that not everyone deserves a voice.
Gov. Christie deserves credit for responding to his critics, but a look at that portion of his timeline gives a distorted view of New Jersey residents as cold, intolerant ghouls. Social media like Twitter give the squeaky, jerky wheels a disproportionate voice. There are many more of us who are proud that New Jersey was home to Whitney Houston.
Here's the clip, from CNN's Starting Point:
Have a tip we should know? [email protected]