'Not Like the Electoral College Is a Surprise:' CNN Anchor Scolds Elector Trying To Reverse Results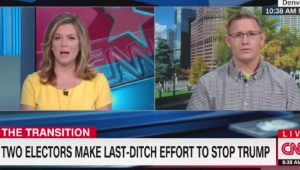 During an interview on CNN today, anchor Brianna Keilar wanted a Colorado elector to explain how he wasn't trying to "undermine the election" by pushing forth a scheme to convince 37 Republican electors to bail on President-elect Donald Trump when the Electoral College meets on December 19th.
Michael Baca has joined forces with Washington elector P. Bret Chiafalo to try to get more Electoral College members to reject the popular voting totals of their states in an effort to get the election to be decided by the House of Representatives.
Speaking to Keilar, Baca contended that "Hamilton electors" feel that people in this election decided they didn't want to vote for either candidate. Therefore, they need to open up a dialogue and reach across the aisle because the people didn't get behind one candidate.
Keilar pushed back, noting that the system heading into this election was clear.
"It's not like the Electoral College is a surprise," Keilar stated. "We know how this works, seen it play out in past elections. How is that not undermining the election itself, undermining democracy to be a proponent of this type of action?"
After Baca insisted they were trying to give voice to the people who didn't have a choice this election, the CNN anchor stopped him.
"They did, they had other choices," Keilar exclaimed. "There were other candidates on the ballot besides Hillary Clinton or Donald Trump. They did have a choice."
Baca responded by bringing up poll number of people who didn't want either Clinton or Trump and the fact that a large percentage didn't even vote.
Watch the clip above, via CNN.
[image via screengrab]
–
Follow Justin Baragona on Twitter: @justinbaragona
Have a tip we should know? tips@mediaite.com