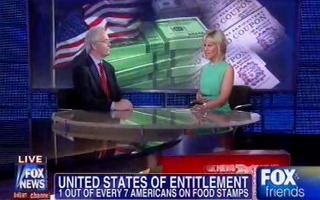 New York Post columnist Michael Goodwin appeared on Fox & Friends to discuss the increase in food stamp recipients and New York Gov. Andrew Cuomo's refusal to allow New York City to fingerprint residents who receive nutritional assistance to root out fraud. Goodwin said recipients of food stamps have ballooned while barriers to entry into the program have decreased; as a result, the "the sense of shame" among entitlement recipients is gone.

RELATED: NY Post Columnist: Democrats' Attacks On NYPD Undermine Obama On Terror
"Shame used to be part of this," said Goodwin referring to the culture that used to accompany applying for and receiving government assistance. "Now we look at it – we've seen this explosion of entitlements and the sense of shame is gone."
Goodwin says that under Presidents Bush and Obama the food stamp rolls have "exploded." Recently, New York City Mayor Michael Bloomberg was blocked in an attempt to fingerprint food stamp recipients by Gov. Cuomo.
"New York City has added 600,000 people to the food stamp rolls in the last four years and that's not enough," said Goodwin. "There are those who say fingerprinting is a stigma, it's a barrier and, as Bloomberg says, well it's not keeping many people away if we've added 600,000 in the last four years."
"So you argue that 'come and get it' could be the new national motto in this country," said co-host Gretchen Carlson.
"The people arguing this are basically saying, forget the shame. It's your—not only your right to get what you can from the government, it's your obligation," Goodwin continued. "The New York Times editorial page, talking about ending the fingerprinting, says, 'think of all the people who would get food stamps—that's a lot of money for New York City.' As though this is the role of the citizen – to go out and get as much federal money as you can and spend it like a stimulus program."
Watch the segment below via Fox News Channel:
Have a tip we should know? tips@mediaite.com