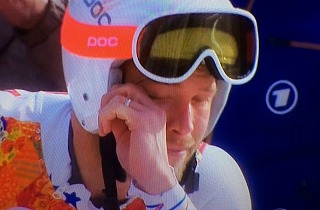 On Sunday, skier Bode Miller was cornered by a reporter with NBC after tying for the bronze medal in the men's super-G. The reporter probed Miller repeatedly about how it felt to be at the Olympics without his late brother Chilly Miller, who passed away last year after suffering injuries related to a motorcycle accident. Framed tightly by NBC's cameras, Bode was pushed for his recollections about his brother until he was moved to tears.
"I know you wanted to be here with Chilly experiencing these games, how much does it mean to you to come up with a great performance for him? And was it for him?" NBC's Christin Cooper prodded.
"I mean, I don't know it's really for him," Miller replied. "But I wanted to come here and — I don't know, I guess make myself proud."
"When you're looking up in the sky at the start, we see you there and it just looks like you're talking to somebody," Cooper added. "What's going on there?"
It was then that Miller removed himself from the interview and took a moment to collect himself. The New York Times' Richard Sandomir noted that this episode was a continuation of Miller's storyline, one which NBC had been promoting for several days.
RELATED: O'Reilly, Goldberg Defend Bob Costas from Conservative Critics over NBC Putin Coverage
"This is the type of storytelling that lubricates NBC's prime-time Olympic engine," Sandomir observed. "This time, the engine backfired."
"Cooper needed to strike a far better balance in her questions so that the takeaway from viewers would not be that she was badgering him," the Times reviewer added.
"Emotion is a real and honest element of athletic triumph and defeat," Sandomir concluded. "And you don't want a network to tell its journalists to stick to soft questions when interviewing the winners. But in this instance, Cooper and NBC lacked the sensitivity to know when enough was enough."
UPDATE: On Sunday evening, Miller took to his Twitter account where he said that his emotions were "raw" in that moment and that he did not believe NBC's Christin Cooper was trying to "cause pain."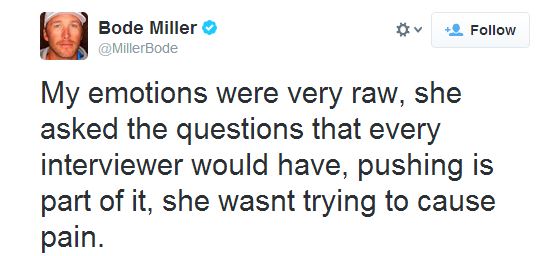 Watch the clip below via NBC:
[Photo via screen grab ]
— —
> >Follow Noah Rothman (@NoahCRothman) on Twitter
Have a tip we should know? tips@mediaite.com