NY Times Reporter Savages WH Correspondents Dinner: D.C. Journalists 'More Of A Celebrity Class'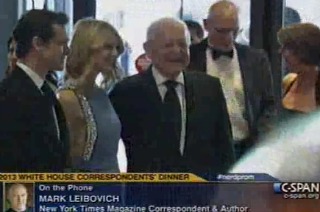 In an interview with C-SPAN, New York Times Magazine Chief National Correspondent Mark Leibovich, the author of an upcoming book detailing the nexus of politicians and the press in the nation's capitol, scorned what the White House Correspondents Dinner had become. He said that journalists in Washington D.C. have evolved into a "celebrity class" and noted that there is a disconnect between the political media and their readers outside the Beltway. Leibovich said the Dinner may be exacerbating that condition.

RELATED: The Narcissism Of The White House Correspondents' Dinner Hurting The Media's Already Tarnished Brand
"One of the things about Washington that's somewhat unique is that, really since All The Presidents Men, journalists in D.C. have become more of a celebrity class than in other cities which is an odd thing," Leibovich told C-SPAN. "There's a level of self-congratulation and self-celebration and so forth that can be very, you know, somewhat at odds with the mood of the country and how people view the media."
Asked about why the New York Times no longer sends its correspondents to come to the event, Leibovich said that a former Times editor believed that the event had become "too cozy."
"It did not feel like the right message to be sending to our readers to really be, you know, in such a chummy in sort of festive setting with the people we're covering," Leibovich added. He said that the rapid expansion of wealth around D.C. is also "part of the disconnect" between the Beltway media and the rest of the country.
Asked about a preemptive review of his upcoming book on Washington D.C. political-media culture in POLITICO which downplayed the revelations in his book, Leibovich dismissed it.
"My basic view is: whatever," Leibovich said noting that any review is premature because no one has read his book yet.
"It's really quite a carnival," he said of the way Washington works today. "It actually has more in common with Hollywood or Bonfire of the Vanities than it does with ye old Washington – old Georgetown dinner party circuit that we used to hear so much about."
Watch the clip below via C-SPAN:
> >Follow Noah Rothman (@NoahCRothman) on Twitter
Have a tip we should know? tips@mediaite.com