NYPD's Ray Kelly Defends 'Essential' Stop-And-Frisk On Morning Joe: 'You Can't Police Without It'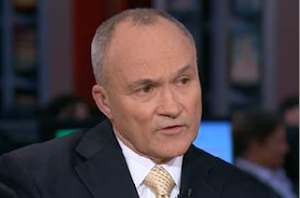 NYPD Commissioner Ray Kelly took his full court press defense of New York's stop-and-frisk program to Morning Joe Tuesday, arguing that the tactic has been "essential" to the city's drop in crime over the 11 years since he's been in his position.
As Mika Brzezinski pointed out in her introduction of Kelly, "stop-and-frisk has really become the next conversation after Stand Your Ground" in terms of racial profiling. She asked the commissioner to explain how his departments massive number of stop-and-frisks have reduced crime in New York City.
"It is a practice that is essential to policing. Police use it throughout America. As a matter of fact, you can't police without doing it." He said the criticism of the practice has been "overblown" and pointed out that "it's only one piece of what we're doing in New York City and in other cities, too."
Brzezinski pushed back on the benign picture of stop-and-frisk painted by Kelly saying, "You put a lot of numbers on the table here, but the numbers also show that the people who are stopped and frisked are primarily minorities and primarily end up to be found doing nothing wrong. So one of the arguments would be that going up to people who are doing nothing wrong is not stopping crime–it's breeding resentment and playing a dangerous game of profiling that could explode at some point."
"The notion anyone stopped has done absolutely nothing wrong is not really the case," Kelly responded, insisting that police "need reasonable suspicion to stop someone and question them." He also countered accusations that the NYPD has "quotas" regarding stops, instead referring to the numbers officers are asked to hit as "productivity goals, like in any other business."
Kelly's appearance on MSNBC came on the heels of an op-ed he published today in the Wall Street Journal, in which he claims the NYPD is only "guilty of saving 7,383 lives" with the policy. He even invokes the name of Trayvon Martin to make his point, writing, "Racial profiling is a disingenuous charge at best and an incendiary one at worst, particularly in the wake of the tragic death of Trayvon Martin. The effect is to obscure the rock-solid legal and constitutional foundation underpinning the police department's tactics and the painstaking analysis that determines how we employ them."
Watch video below, via MSNBC:
—
>> Follow Matt Wilstein (@TheMattWilstein) on Twitter
Have a tip we should know? tips@mediaite.com