Obama Asked At Facebook Town Hall: 'If You Had To Do Anything Differently During Your First Four Years, What Would It Be?'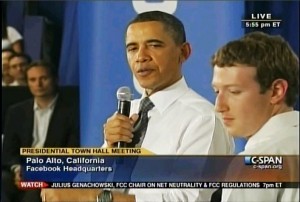 President Obama did a town hall at Facebook headquarters today and got a rousing response. The audience was receptive and he (and moderator Mark Zuckerberg) seemed to be enjoying themselves. However, just like in a job interview (which this kind of was, if you think about it) Obama was eventually asked about his faults. We've got his winding response below. And, no, he didn't say that he "sometimes tries too hard."
The actual question, the final of the night, was phrased like this; "If you had to do anything differently during your first four years, what would it be?" Obama got around the trick part of the question and pointed out that he's only actually been in office two and a half years (Ah, I see you do know how to keep track of time. Well done, sir.") and then got down to business.
"You know, there are all sorts of day to day issues where I say to myself, 'Ah, I didn't say that right,' or 'I didn't explain this clearly enough,' or 'Maybe if I had sequenced this plan first as opposed to that one, maybe it would have gotten done quicker.' Health care, obviously, was a huge battle. … We wouldn't have gotten it done if it hadn't been for great work in Congress. But I do think that it was so complicated that, at a certain point, people started thinking 'This is typical Washington bickering' and I ask myself sometimes if there was a way we could have gotten it done more quickly and in a way that the American people wouldn't have been so frustrated by."
Obama then smoothly transitioned from things he has done to things he has to do, talking till the end of the Town Hall about the many ways he wants to spend the rest of his term and whatever (cough second term cough).
Man, I bet this guy is awesome at job interviews.
Check out the clip from C-Span below:
Have a tip we should know? [email protected]