Obama Praises Troops, Laments Most Americans' Isolation From Sacrifice Of War On Memorial Day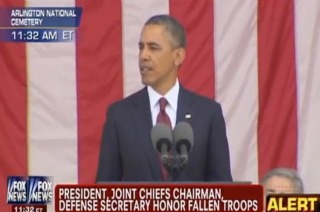 On Monday, President Barack Obama delivered a speech at Arlington National Cemetery praising the sacrifice of America's soldiers. After laying the ceremonial wreath at the Tomb of the Unknown Soldier, Obama noted that most Americans no longer have to sacrifice along with the soldiers in the field when the nation goes to war. He urged Americans to remember that, even as the wars of the last decade come to a close, American servicemen and women fight on around the globe.

Obama began the speech noting that the cemetery overlooks Washington D.C., which he called a "city of monuments."
"But it is here, on this hallowed ground, where we chose to build a monument to a constant thread in the American character," the president said. "That character, that selflessness, betas in the hearts of the very first patriots who died for a democracy they had never known and would never see. It lived on in the men and women who fought to hold our union together, and in those who fought to defend it abroad – from the beaches of Europe to the mountains and jungles of Asia.
Obama offered a special salute to those who fought on the Korean Peninsula as this year marks the 60th anniversary of the armistice that ended the Korean War. He noted that the war in Iraq is over and American service personnel are returning home from Afghanistan as that war comes to a close.
RELATED: President Obama Lays Wreath On Tomb Of The Unknowns At Arlington National Cemetery
"But even as we turn a page on a decade of conflict, even as we look forward, let us never forget, as we gather here today, that our nation is still at war," Obama said. "This should be self-evident and, in generation's past, it was.
Obama said that past wars were marked by a much more expansive level of service that touched nearly ever civilian in America. Today, however, the burden of war is shared by fewer and fewer. "Today, most Americans are not directly touched by war," Obama said. "As a consequence, not all Americans may always see or fully grasp the depths of sacrifice, the profound costs, that are made in our name."
The president asked his fellow citizens to remember that American soldiers fight on around the globe. "May God bless the fallen and all those who serve, and may God continue to bless the United States of America," Obama concluded.
Watch the speech below via Fox News Channel:
> >Follow Noah Rothman (@NoahCRothman) on Twitter
Have a tip we should know? tips@mediaite.com