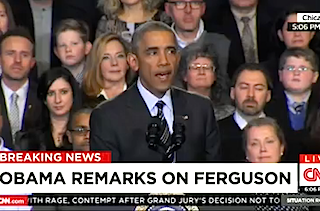 President Barack Obama was in Chicago this afternoon to speak about his executive action on immigration, but towards the beginning of his speech he took several minutes to address the ongoing situation in Ferguson, Missouri after a grand jury decided not to indict Officer Darren Wilson for the shooting death of Michael Brown. Following up on his comments from the night before, the president urged any protests to be peaceful and said there is "no excuse" for the destructive violence seen last night.
"Burning buildings, torching cars, destroying property, putting people at risk — that's destructive and there's no excuse for it," Obama said. "Those are criminal acts. People should be prosecuted if they engage in criminal acts."
But the president also highlighted the many non-violent protesters who marched last night, not only in Ferguson but around the country. "We've seen young people who are organizing and people beginning to have real conversations about how do we change the situation so that there's more trust between law enforcement and some of these communities," he said.
RELATED: Obama Probably Didn't Anticipate These Haunting Split Screens During His Speech
Sending a message to those peaceful protesters, Obama said, "I want all those folks to know their president will work with them," drawing loud applause from his supporters in attendance.
Then, tying Ferguson to the main topic of his speech, the president added, "The bottom line is nothing of significance, nothing of benefit results from destructive acts." He continued:
"I've never seen a civil rights law or a health care bill or an immigration bill result because a car got burned. It happened because people vote. It happened because people mobilize, people organize. It happens because people look at what are the best policies to solve the problem. That's how you actually move something forward.

So don't take the short-term easy route and just engage if destructive behavior. Take the long-term, hard but lasting route of working with me, and governors, officials, to bring about some real change.

And to those who think that what happened in Ferguson is an excuse for violence, I do not have any sympathy for that. I have no sympathy at all for destroying your own communities. But for the overwhelming majority of people who feel frustrated and pained, because they get a sense that maybe some communities aren't treated fairly or some individuals aren't seen as worthy as others, I understand that. And I want to work with you and move forward with you. Your president will be right there with you. Let's be constructive."
Then, the president pivoted to immigration and CNN cut back to live footage from the streets of Ferguson.
Watch video below, via CNN:
[Photo via screengrab]
— —
>> Follow Matt Wilstein (@TheMattWilstein) on Twitter
Have a tip we should know? tips@mediaite.com