Obama's Half-Brother to Publish Autobiography, 'Set the Record Straight' About Obama's Memoir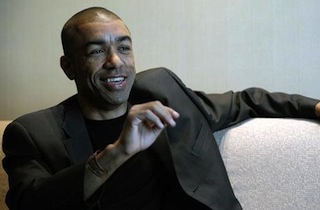 Mark Obama Ndesandjo, President Barack Obama's half-brother, will release a self-published autobiography in February chronicling his father's domestic abuse, his blinkered relationship with his half-brother, and some inaccuracies in Obama's own memoir.
Ndesandjo is the child of Barack Obama Sr.'s third marriage. Raised in Kenya, he later came to the States, crisscrossing Obama's path several times along the way, though the two did not get along. "Barack thought I was too white and I thought he was too black," Ndesandjo told the Associated Press. "He was an American searching for his African roots, I was a Kenyan, I'm an American but I was living in Kenya, searching for my white roots."
Cultures: My Odyssey of Self-Discovery will examine his father's brutal treatment of his mother, a topic he fears could alienate members of Obama's side of the family.
The book will also contain an appendix disputing details from Obama's 1996 book Dreams of My Father.
"A lot of the stuff that Barack wrote is wrong in that book, and I can understand that because to me for him the book was a tool for fashioning an identity and he was using composites," Ndesandjo said. "I wanted to bring it up because first of all I wanted the record to be straight. I wanted to tell my own story, not let people tell it for me."
Ndesandjo, a classically-trained pianist with a master's in Physics who lives with his wife in China, said he hoped he could make amends with his half-brother after 2016. "I hope that my brother and I can really hug each other after he's president and we can be a family again," he said.
[h/t NYDN]
[Image via AP]
——
>> Follow Evan McMurry (@evanmcmurry) on Twitter
Have a tip we should know? tips@mediaite.com