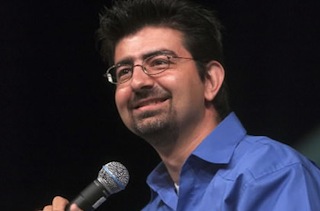 First Look Media (formerly NewCo), the new media venture founded by Pierre Omidyar, released details of its initial form on Thursday, including a new name, a significant infusion of capital, and a bipartite structure that funds its non-profit journalism component through a for-profit technology development company.
Omidyar, who will serve as a publisher, provided $50 million in funding to the fledgling enterprise, which he said in a press release represented 20% of his projected contribution. First Look Media will comprise at least two different entities, one a company focused on developing new media technology, and another the as-yet-unnamed journalism operation, which will be a 501 (c)(3) non-profit. Profits from the development side will be used to underwrite the journalism side, though the latter will maintain editorial independence.
RELATED: Jeremy Scahill Reveals New Details About Journalism Project with Glenn Greenwald
NYU journalism professor Jay Rosen, an advisor to the new venture, explained on his website PressThink how the business/non-profit combo is similar to yet distinct from other media enterprises like Poynter, ProPublica, and the Guardian, from which reporter Glenn Greenwald came:
The First Look set-up is different. Here the journalism operation is a non-profit, housed within a parent company, which may have other entities inside it. The entire operation is designed to support the mission of independent public service journalism, achieve sustainability and attract talent.

Another way to say it is: public service, mission-driven journalism, including investigative work, has always been subsidized by something: advertising, other kinds of news, donors to a non-profit (as with ProPublica) or a related and profitable business like the Bloomberg terminals that subsidize Bloomberg News. First Look Media is adding to the picture another possible source of support: profits from a company specifically focused on technology for producing, distributing and consuming news, views and information.
Omidyar was the founder of eBay, and became a billionaire upon its public offering, since which he has been in active in digital publishing and journalism. In addition to Greenwald, the new publication will feature Laura Poitras, former Nation reporters Jeremy Scahill and Liliana Segura, and former Washington Post journalist Dan Froomkin.
[h/t Omidyar Group / Press Think]
[Image via Bloomberg News / Landov]
——
>> Follow Evan McMurry (@evanmcmurry) on Twitter
Have a tip we should know? tips@mediaite.com