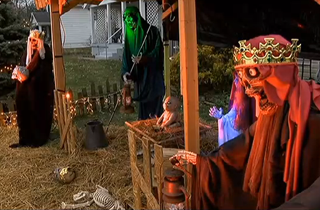 With all the awful things going on in the world, let's get back to reporting on the things that really matter, like the War on Christmas. Don't you miss the War on Christmas? Bill O'Reilly said that he won it just last week, but like many wars that were won, he didn't quite win it yet.
Because over in Ohio, a man is currently battling the town over his nativity scene made of zombies, complete with Zombie Mary, Zombie Wise Men, and Zombie Baby Jesus (who did technically rise from the dead, but not until he was a full-grown man).
"I wanted a Nativity and I worked with what I had," Jasen Dixon, who owns a haunted house in Deer Park, told Fox 19. "The neighbors don't like it. My father hates it and anything bad that happens he blames it on that."
However, Sycamore Township is not cool with this act of terrorism against Christmas, slapping Dixon with an order to remove the nativity scene as it violates town regulations. According to them, the structure is just too big for his yard (the town "does not allow structures to be located in the front or the side yard to occupy more than 35 percent of the area"), but Dixon says the order violates his First Amendment rights. "It's a holiday decoration. I know if it was a real pretty Nativity scene they wouldn't be saying anything," he said, adding that he wouldn't take it down despite threats of legal action.
Watch below via Fox 19:
Cincinnati News, FOX19-WXIX TV
[h/t Fox News]
[Image via screenshot]
—
>> Follow Tina Nguyen (@Tina_Nguyen) on Twitter
Have a tip we should know? tips@mediaite.com