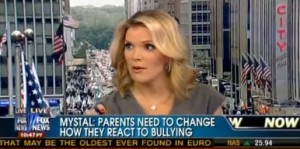 If you haven't noticed, GLAAD has been asking people to wear purple today, "Spirit Day," to show support for putting an end to anti-gay bullying. As such, Fox News decided to give someone with a different stance on the bullying-is-bad issue a forum. Elie Mystal of Above the Law told Megyn Kelly that anti-bullying legislation is a "gross overreaction" because "the causal chain is broken between the bullying act and the personal decision to commit suicide." When Kelly asked Mystal about some of the recent suicides that have made the news, like that of Rutgers student Tyler Clementi, Mystal stood his ground and eventually, darkly concluded: "At the end of the day, we are alone."
The crux of Mystal's argument against anti-bullying legislation is that:
Bullying is unavoibable, but it is the adults who need to change how they respond to it by not running to the courtrooms.
He also stated that bullying should function as a learning mechanism for children:
We're talking about kids. Kids — and I don't want to ruin anybody's idea about children, because they've watched Disney movies and they're very happy with them — but kids are mean people. Kids will say anything. Kids will hurt your feelings. Kids will go there.
If Mystal sounds cold to you, perhaps you'd be interested to know that he was "badly bullied as a child" and is still "bullied as an adult." His advice?
There's nothing wrong with saying, with telling a child that "Yes, bad things happen to you. Bad things happen to everybody. It's time for you to learn how to deal with it."
So…that's what's happening on the other side of the anti-bullying issue.
Have a tip we should know? tips@mediaite.com