O'Reilly Demands a Statement From American Muslims, Misses with Catholic Priest Analogy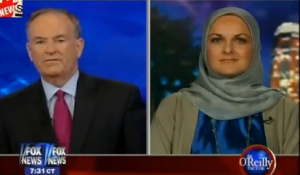 To kick off his "Impact Segment" last night, Bill O'Reilly juxtaposed a clip of Friday's Day of Islamic Unity, a peaceful prayer demonstration by American Muslims in front of the Capitol, and clips of various terror suspects being moved around in handcuffs across the country.
And because all Muslims must take responsibility for each other's actions (right?), O'Reilly invited Edina Lekovic, communication director of the Muslim Public Affairs Council, onto the show to ask her what American Muslims were doing to clear their name and improve their image.
J-school students, take notes: "I guess it must be painful," O'Reilly began the interview, "for you and other law-abiding, good muslims to continue to see muslim men — not only in the United States but all over the world — involved in these alleged terror plots. Is that painful?"
To be fair, O'Reilly acknowledged that it might be a little far-reaching to call American Muslims to task for the actions of a extreme minority, invoking the catholic priest scandals and remarking that, as a catholic, he felt that the actions of a minority of priests reflected poorly on the entire religion. But still, isn't there a difference between a few crazy, would-be terrorists who happen to be Muslim, and a rash of incidents across the country coming from the very practitioners, priests in this case, who are the public face of their religious institution?
O'Reilly ended the interview by criticizing the Day of Islamic Unity for not featuring an explicit statement condemning fundamentalist Muslims who support terrorism: "You're not proactive enough! You're not proactive enough in condemning worldwide Jihad! … You have to step up your PR activities."
The Day of Islamic Unity, after all, was a show of majority Muslim practices — namely peaceful group prayer. Actions speak louder than words, but not on O'Reilly.
Bill O'Reilly's Impact Segment with Edina Lekovic:


Have a tip we should know? tips@mediaite.com