Bill O'Reilly: Rep. West Is 'Making A Mistake' By Not Explaining 'Nasty' Comments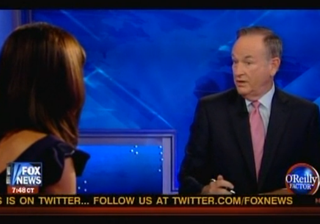 Rep. Allen West has outraged a good number of people in the media with his infuriated email against DNC chair Rep. Debbie Wasserman-Schultz, in which he calls her "vile" and "a coward" and a number of other colorful epithets. The email was so venomous, it seems some that may agree with the sentiment hesitate to support it. Take, for instance, Bill O'Reilly, who argued today that the exchanges between the two were "nasty" and "personal" and that Rep. West "hurt himself" by not explaining himself more publicly.
O'Reilly played the comments Rep. Wasserman-Schultz made on the House floor that enraged Rep. West, and noted that the Factor invited him on the program to explain, but he declined. Speaking to Fox Business's Dagen McDowell, O'Reilly explained that, in response to the backlash, Rep. West "issued some kind of very scorching statement on his website," but that it was no enough. While McDowell explained that Rep. West had brought up "a previous beef" between the two Congresspeople, O'Reilly argued that the website notes were not enough. "I would come on and say… here's why I'm so angry about this," O'Reilly advised. "By not doing that, he hurts not only himself, but his cause." While O'Reilly did not entirely take positions, aside from calling the spat nasty and personal, he concluded that Rep. West could not come out looking good in this situation without going public with the policy.
The segment via Fox News below:

Have a tip we should know? tips@mediaite.com