Passenger on Derailed NY Train Recounts Crash to CNN: 'I Opened My Eyes Just in Time…'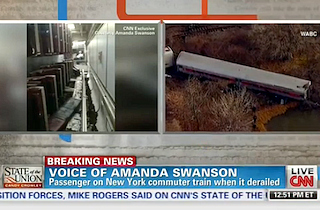 Amanda Swanson, a passenger aboard the Metro North passenger train that derailed Sunday morning, spoke to CNN's Candy Crowley about the experience. The derailment left at least four dead and sixty-three injured.
"I was actually nodding off, and I wound up waking up, because I felt my body to be at 60-45 degree angle, even though I was sitting upright in my chair, and I knew that didn't feel quite right," Swanson said. "I opened my eyes just in time to realize what was going on…I just rode out the crash, and just tried to stay conscious and aware so I could do everything on my end to stay alive and uninjured."
Swanson was in one of the cars that flipped completely on its side. She said that the passengers were able to get windows and doors open on the top to see fresh air, but were unable to climb out and had no idea if they were on land, water, or somewhere in between. Swanson said passengers stayed put until the Fire Department helped them out.
"When I became aware that I was in the middle of a train crash, I had a very brief conversation with myself, when I said, 'Okay Amanda, this is that moment,'" she said. "'You're going to stay awake, you're going to stay guarded, you're going to live through this.' That sounds silly, but it was important for me to do that."
"It wasn't until I got out and I saw those other pictures I took of the train on its side that I realized how bad it was," Swanson said. "When I got to the base camp area and saw all the people on stretchers, that was when I started to get a little panicky—not for myself, but I realized the gravity of the situation."
Watch the segment below, via CNN:
[Image via screengrab]
——
>> Follow Evan McMurry (@evanmcmurry) on Twitter
Have a tip we should know? [email protected]