Paul Begala: Newt Saying GOP Plan Is 'Too Radical' Is Like Paris Hilton Disliking Someone 'Too Slutty'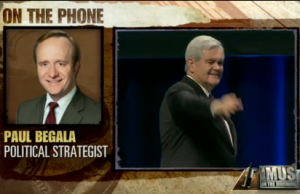 Paul Begala joined Don Imus this morning and commented on the recent troubles for Arnold Schwarzenegger and Newt Gingrich. Begala felt Schwarzenegger and his family deserved privacy, but was absolutely loving the media attention Newt received, and even offered to pay his filing fee to confirm that he would still run for President.
Begala couldn't contain his enjoyment over Newt's recent comments:
"How great is this? And believe me, we have this on tape. He says that the Republican plan which would essentially end Medicare is too radical even for him. And I want to have a contest . . . it's like Charlie Sheen saying 'man that party's a little too wild for me, I'm not going in there.' Like Paris Hilton saying 'well you know she's nice, but she's a little too slutty for me.'"
Imus however tried to bring Begala back to reality and claimed that no matter how much Democrats want Newt to be the candidate, he's a "joke" that won't be taken seriously. Instead Imus warns that it's going to be "my boy" Mitt Romney.
Regarding Schwarzenegger, Begala urged that the former Governor find a new job to put his marital strife behind him, and even offered a humorous suggestion for his next career:
"He needs to run the CIA. If he can keep that secret for ten years, and we can't keep the operational details of the Bin Laden mission secret for ten minutes? Put him in charge of the CIA."
Given that Begala helped steer former President Bill Clinton away from scandal towards high public approval numbers, maybe Schwarzenegger actually should reach out to him for advice.
Watch the clip from Fox Business below:

Have a tip we should know? tips@mediaite.com